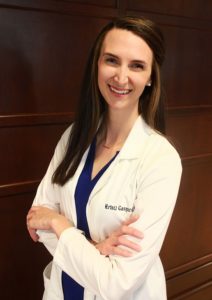 Kristi Gaspard is a dedicated Physician Assistant who joined our practice in April 2023, bringing with her a wealth of experience and a compassionate approach to patient care. Born and raised in South Louisiana, Kristi has made Shreveport her home and is committed to serving the local community.
Kristi's educational background includes a Bachelor of Science in Biological Engineering from LSU Baton Rouge, which she obtained in 2014. She further pursued her passion for healthcare by earning her Masters of Physician Assistant Studies from LSUHSC in Shreveport in 2018. With a solid foundation in both engineering and medicine, Kristi brings a unique perspective to her practice, combining analytical thinking with a patient-centered approach.
Prior to joining our family medicine clinic, Kristi worked as a Hospital Medicine PA for nearly 5 years. This experience in acute care settings has honed her skills in managing complex medical conditions and emergencies. However, Kristi's true passion lies in holistic wellness and non-toxic living for preventative care. She firmly believes in empowering her patients through education, ensuring they have a thorough understanding of their conditions and treatment options.
Beyond her professional endeavors, Kristi finds joy in her roles as a wife and mother. She is married to Andrew Gaspard, the owner of a local business called Sportspectrum, and together they are raising two young boys. Kristi and her family are active members of Norris Ferry Community Church, where they find a sense of community and spiritual support.
In her leisure time, Kristi indulges in her love for the outdoors. She enjoys mountain vacations, hiking, and exploring new destinations both locally and internationally. These experiences help her maintain a balanced perspective on life, which she brings to her interactions with patients.
With her expertise, compassionate nature, and commitment to holistic wellness, Kristi Gaspard is a valuable asset to our practice, providing comprehensive and patient-centered care to individuals and families in Shreveport and its surrounding areas.