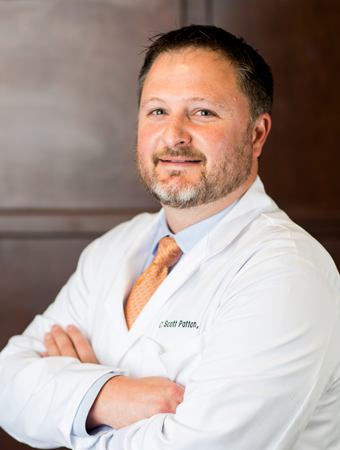 Dr. C. Scott Patton joined The Family Doctors in August 2006 upon completion of family medicine residency training. During his medical training, Dr. Patton placed special emphasis on women's health, adolescent medicine, sports medicine and caring for the aging adult.
Dr. Michael Fleming served as Dr. Patton's medical mentor throughout his life. Dr. Patton spent many of his educational training hours at The Family Doctors working under the direction of Dr. Fleming.
When not practicing medicine, Dr. Patton enjoys spending time with his wife Lauren and three daughters. Dr. Patton is an active member at Broadmoor Baptist Church
Dr. Patton is a member of:
American Academy of Family Physicians
Louisiana Academy of Family Physicians
Louisiana Medical Society Shreveport Medical Society
Accepting new patients:
Dr. Patton is accepting new patients.
Primary Specialty:
Family Medicine
Secondary Specialty:
Sports Medicine
Undergraduate Education:
Louisiana State University, Shreveport, Louisiana – Bachelor of Science Biology: 1999
Medical Education:
Louisiana State University Health Sciences Center Schol of Medicine, Shreveport, Louisiana – Medical Doctor: 2003
Residency:
University of Texas Health Center at Tyler, Tyler, Texas – Internship and Residency in Family Medicine: 2006
Academic Appointments:
University of Texas Health Center at Tyler, Tyler, Texas – Chief Resident: 2005 -2006
In Practice Since:
2006
Honors and Awards:
University of Texas Health Center at Tyler, Tyler, Texas – Resident of the Year: 2006
American Academy of Family Physicians – Tomorrow's Leader Award: 2002
Louisiana State University, Shreveport, Louisiana – Neal Dlin Memorial Award: 1999