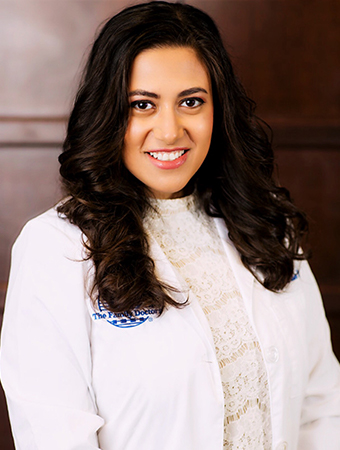 Mary Eskander M.D. joined The Family Doctors in August 2016. Dr. Eskander is from Shreveport, Louisiana. Dr. Eskander attended Caddo Magnet High School before entering Centenary College of Louisiana. While at Centenary, Dr. Eskander received a Bachelor of Science degree in Biochemistry and graduated Magna Cum Laude. After college, she attended Louisiana State University Health Sciences Center of Shreveport where she completed medical school. Dr. Eskander was a member of the Alpha Epsilon Delta while in medical school. Dr. Eskander completed her Family Medicine Residency program at University Health Shreveport and North Caddo Medical Center in Vivian, Louisiana.
Dr. Eskander is married and her husband is currently completing a Cardiology Fellowship at LSU Medical School in Shreveport. During her free time, you can find Dr. Eskander fencing, river rafting, reading a good book or listening to music!
Dr. Eskander is currently a member of:
American Academy of Family Physicians
Louisiana Academy of Family Physicians
Shreveport Medical Society
Accepting new patients:
Please call 318 797 6661 for requests.
Primary Specialty:
Family Medicine
Medical Education:
Louisiana State University Medical Center, Shreveport, Louisiana – Doctor of Medicine : 2013
General School Education:
Centenary College of Louisiana- Bachelor of Science in Biochemistry and Minor in Spanish: 2008
Residency:
University Health, Shreveport and North Caddo Medical Center, Vivian Louisiana – Family Medicine Residency : 2016
Board Certifications:
American Academy of Family Physicians : 2016
In Practice Since:
2016